Apple's Upcoming iPads Could Sport A Souped Up iPhone 6 Processor | TechTree.com
Apple's Upcoming iPads Could Sport A Souped Up iPhone 6 Processor
The alleged 'A8X' processor could mean improved graphics, a higher clock speed and a few new tricks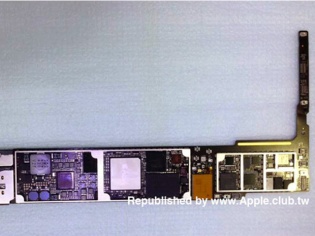 Last year's iPad Air and Retina iPad Mini were powered by the same Apple A7 processor that shipped along with the iPhone 5s. While reviews soon suggested that the new processors were more than capable of handling multitasking on the tablet, hardware aficionados were let down as the iPad didn't adhere to the 'bigger = more power' thumb rule.
That shouldn't be an issue on the upcoming iPads however, as Taiwanese site Apple.club.tw has posted photos of the device's motherboard showing a shiny new A8X processor. Going by what we've seen in the past, the 'X' will mean improved graphics, a higher clock speed and a few new tricks, when compared to the iPhone 6 CPU.
The report adds that the new iPads will feature 2GB of RAM, twice as much as the current iPads and also the iPhone 6 and its oversized sibling. It's hard to spot the RAM upgrade by looking at the photograph provided, but given that Apple is planning add a slew of new hardware intensive programs, it does seem like a huge possibility.
We've already gotten a look at an early prototype of the purported iPad Air, featuring a very similar design to the current iPad models. While the new hardware upgrades will not be enough to prompt people to buy the new iPads, it won't be long before we know fully well how Apple plans to tackle the problem of falling iPad sales.
TAGS: Apple, iPad, Apple iPhone 6, processors