Google Unveils Polls On Google+ As It Re-Jigs Its Social Strategy | TechTree.com
Google Unveils Polls On Google+ As It Re-Jigs Its Social Strategy
The new feature comes just a month after the company purchased polling specialist startup Polar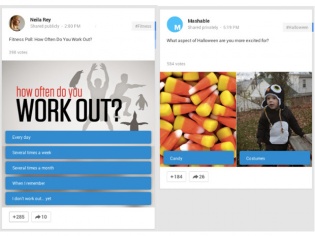 Google purchased a startup called Polar (that specialized in crafting online polls) last month to give its ailing flagship social network Google+ a boost. It seems like the company didn't want to waste any time, as a new polling feature has already started making its debut on Google+.
Google will now allow you to settle raging debates on its social network or just crowdsource information to for what your next meal should be. Polls include up to five options, each of which includes their own photo, with a single click being enough to cast your vote.
"Starting today, you can use polls on Google+ to settle the burning issues of our generation...or at least find out what your friends are thinking," said Dennis Troper, of the Google+ team in a post on the social network's page.
Polls should be quite similar to Facebooks questions that we've got over years ago, but there are a few fundamental differences. The Google+ feature for one is a lot more pleasing to the eye and also the number of options is restricted to five.
With Google seeming to roll back its forceful tactics of getting people to use its social network, it hopes the addition of polls will draw in the crowds. As we've heard from the new Google+ chief, Dave Besris, that the social network isn't going anywhere anytime soon, maybe this is the new way of promotion Google has settled on.
TAGS: Google, Google+, Social Network