Specifications Of Motorola's Droid Turbo Emerge As Manual Leaks | TechTree.com
Specifications Of Motorola's Droid Turbo Emerge As Manual Leaks
While the device will be locked to US carrier Verizon, it's high-end specs made us stand and take notice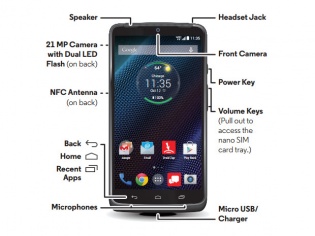 We caught a glimpse of the upcoming Motorola Droid Turbo last month, but a few leaked images didn't do much to explain what hardware the device was packing. Thanks to MotoFirmware.com we now have a detailed list of specifications, the device's form factor and several other features.
While Motorola's Droids aren't global models and are locked to US carrier Verizon, the purported specifications did make us stand up and take notice. The device will feature a 5.2-inch screen, but it isn't yet known if it will be a QuadHD display that earlier leaks suggested. As with all Droids, the device will feature capacitive touch buttons at the bottom of the screen.
Another key feature will be the 21MP camera that will be capable of recording video in 4K resolution. The device will feature Moto's dual flash unit, however it seems that it won't be the same ring flash unit that we have on the Moto X. Other features include Moto Actions, Display, and Connect, that should allow it to pull off some of the Moto X's context-based tricks.
The SIM tray on the Droid Turbo appears to double as the volume rocker, which means it isn't flush with the side of the phone and can be pulled out without any special tool. The Motorola logo at the rear is in a circular relief that should bring the awesome comfort dimple to the Droid series as well.
Motorola will apparently equip the Droid Turbo with wireless Qi charging and device is also compatible with the Moto turbo charger. The turbo charger will apparently ship along with the device, which is a great deal considering that it costs about $35 to purchase separately.
Follow this link to check out the leaked manual in detail.
TAGS: Motorola, Droid Turbo, quad HD display