Leaked Images Of The HTC-Built Nexus 9 Tablet Surface Online
HTC may be well known for its use of metal, but Google seems to be sticking to plastic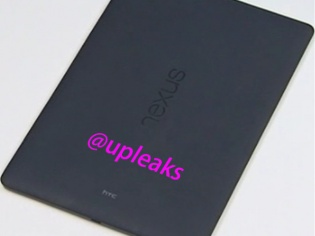 If you didn't already believe that HTC was making a return to tablets with the Google Nexus 9, serial leaker @upleaks now has photographic evidence to prove the same. The leaked image of the purported new Nexus tablet comes soon after reports suggesting the device made a trip to the US regulator broke.
The image clearly shows the Nexus and HTC branding at the back of the device, which seems to be made of the same plastic used on the Nexus 5. While the device will undoubtedly be at the cutting edge of Android powered tablets, any claims that the Nexus 9 featuring a metallic construction have been dispelled.
Given the plethora of leaks surrounding the Nexus 9 built by HTC, we also have a pretty clear picture of what's going to be powering the device. NVIDIA's lawsuit revealed the the tablet will be powered by its Tegra chip, possibly the K1 that features a 64-bit architecture.
Now that news of a Motorola built Nexus 6 has begun doing the rounds, it's clear that the launch of the next-generation Android devices is near. The devices will run on Google's Android L operating system, which by default uses the ART runtime that supports 64-bit CPUs.
Earlier reports suggested that HTC and Google could unveil the Nexus 9 sometime in October, but keeping with previous year's launch schedules, a November debut seems more likely. While we're somewhat disappointed that the Nexus 9 won't match the iPad's build, we can't hate a tablet that offers a lot at such a low cost.
TAGS: Google, HTC, Nexus 9, Tablets, Android L, NVIDIA, Tegra K1