GoPro's New Entry-Level Hero Offers Insane Value At $129 (approx Rs 8,000) | TechTree.com
GoPro's New Entry-Level Hero Offers Insane Value At $129 (approx Rs 8,000)
Yes we know it'll cost more than that in India, but any reduction in cost is welcome by us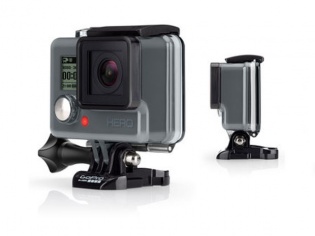 GoPro has just outed a new line of devices, and while it's a given that they're better than ever, it's the new entry-level Hero is the one that has caught our eye. While the Hero4 Black and Silver editions get fancy 4K video recording capabilities and touchscreens, the Hero stands out with its bare-bones approach to an action camera.
The Hero fills the spot GoPro usually used to reserve for its "White" editions, but the new low-end device takes cost cutting to new heights. Best of all, the Hero costs just $129 (approximately Rs 8,000), and while it lacks Wi-Fi connectivity, it still is waterproof and retains all the amazing shooting modes for which we love GoPros.
Gone with the Wi-Fi is the ability to control the device remotely, and you'll have to use a USB cable to connect the device to your computer. Still, if you've ever used a GoPro, you'll know that those are features you can live without, except for those rarest of situations where they really become a necessity.
With the Hero4 Black and Silver editions, GoPro has taken its action cameras to the next level, offering 4K video recording and a very useful screen. However, we suspect it will be the Hero that will expand GoPro's user base, as the lower price tag won't scare away first time action camera users, who have no clue what they're getting into.
The other big reason we think the Hero will be lapped up like hot cakes is because some veteran GoProers will find them more extensible than than previous versions. This means we're going to get to see more daring stunts, cameras placed closer to the racing line in rallies, and while many of the performers may get injured in the process, at least it won't hurt their pockets.
The bottom line is that if you're looking to make videos for YouTube, the Hero is a more than capable device to shoot your adventure. The Hero4 Black and Silver editions do make great sense for film makers and people who actually have the need to shoot in UltraHD resolutions. If you ask us, three GoPro Hero's make more sense than one when filming your epic adventure.
TAGS: GoPro, Hero, Action Camera