BlackBerry Launches Its Passport Smartphone In India At Rs 49,990 | TechTree.com
BlackBerry Launches Its Passport Smartphone In India At Rs 49,990
The device is available for pre-order exclusively on Amazon.in as off immediately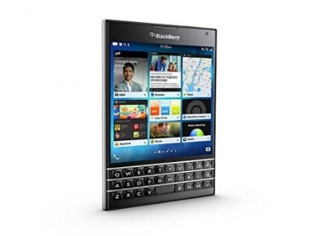 Struggling Canadian handset manufacturer BlackBerry has launched its all-new flagship 'Passport' smartphone in India at Rs 49,990. The device is up for pre-order exclusively on Amazon India, from today up until October 10, with early takers getting an Amazon voucher worth Rs 5,000 and 5,000 Jet privilege miles.
The Passport is a stark departure from anything major smartphone manufacturers are making these days, featuring a 1,440 x 1,440 pixel 4.5-inch square display. The device also features BlackBerry's iconic physical keyboard at the bottom, but unlike any of its previous devices there's no substitute to some virtual keypad functions.
On the hardware front, BlackBerry's Passport device is on-par with various Android flagships, featuring a Snapdragon 801 CPU, 3GB of RAM and 32GB of on-board storage. Users will also be able to take advantage of the external memory card slot, that supports microSD cards of up-to 128GB.
Connectivity options include 3G, Wi-Fi, Bluetooth 4.0, NFC, and even support for 4G networks, which are slowly making their way into the Indian market. One thing that sets the Passport apart from most other smartphones is its 3,450mAh battery, which the company claims will deliver a battery life of 30 hours.
The Passport comes with a 13MP primary camera with optical image stabilization (OIS) technology, which on paper puts it up against rival devices. The front facing camera is of the 2MP variety, and while the rear camera can record video in FullHD, the front facing one can manage only 720p video capture.
The device runs on BlackBerry's latest BB OS 10.3 version, that brings along a virtual assistant, updated BlackBerry Hub, and a wallet app that's approved by the RBI. There's also a nifty feature that allows users to stream content and notifications from the Passport to their PC (Windows or Mac) or Tablet (iOS or Android).
Some would say BlackBerry's biggest drawback is the lack of apps, but BB OS 10.3 hopes to solve the issue by adding support for native Android apps, however users won't have access to the Google Play Store. Instead, users will have access to the Amazon app store, where they'll be able to download and install Android apps.
The Passport is sort of BlackBerry's last hurrah at proving to the world that it's still relevant, and it's targeting its most loyal band of customers, enterprise users. While the odd screen robs some of the device's multimedia prowess, the company claims it's ideal for typing out mails, messages and documents, and doing many other productive things.
TAGS: BlackBerry, Passport, high-end smartphone