Samsung To Launch The Galaxy Note 4 In India Within The Next 2 Weeks | TechTree.com
Samsung To Launch The Galaxy Note 4 In India Within The Next 2 Weeks
The company is planning a dual assault on the high-end smartphone market with the Note 4 and the smaller Galaxy Alpha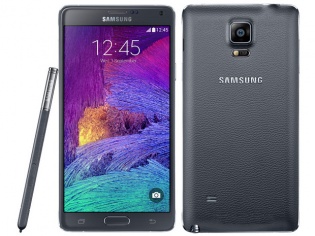 Samsung will launch its flagship Galaxy Note 4 phablet in India within the next two weeks, as it looks to cash in on the festive season buying rush. The company is adopting a two pronged approach to counter the new iPhone models, and launched the 4.7-inch Galaxy Alpha at Rs 39,990, which serves as a downsized Galaxy Note.
"The Note 4 will be launched before Diwali," said Asim Warsi, VP of Samsung India's mobile division, according to an ET report. Not revealing the exact pricing details of the Note 4 in India, he added, "For most of our flagship devices, we will follow the global pricing."
While the Korean electronics giant is still the largest seller of smartphones in the country, it's growth has been stunted by lack of compelling products, especially in the low-to-mid range market. However, with the launch of the Galaxy Alpha and Galaxy Note 4, the company expects sales to grow in the October-December period.
Other than the two high-end products, the company is also planning to launch a slew of new devices targeting the low and mid range segments, which are currently on fire in India. "We will keep working with banks and come out with compelling products from a financial affordability standpoint," said Warsi.
Another strategy being adopted by Samsung is that of introducing 4G LTE capable devices in the Indian market across different price bands. While the Galaxy Alpha and the upcoming Note 4 can connect to LTE networks, the company is planning further models in partnership with operators Bharti Airtel and Reliance Jio.
Samsung however isn't the only manufacturer looking to cash in on the initial wave of 4G networks in the country. Microsoft has already announced it will unveil 4G devices as and when the environment is in place, while chipmaker Qualcomm's new Snapdragon 210 processor will look to bring 4G connectivity to devices in the sub-$100 price bracket.
TAGS: Samsung, GALAXY Note 4, Phablet, high-end smartphone, Galaxy Alpha