Are Users Still Skeptical About Installing iOS 8? | TechTree.com
Are Users Still Skeptical About Installing iOS 8?
Analytics indicate that the adoption rate of iOS 8 in the first 24 hours is nearly half of what we saw with the roll-out of iOS 7
The reviews of iOS 8 have great, but number indicate that adoption of Apple's latest OS version is lower than that of its predecessors. According to numerous OS usage monitoring platforms, iOS 8 adoption stood between 16 to 17 percent in the first 24 hours, as opposed to 38 percent for iOS 7 which was launched a year ago.
The statistics from Mixpanel and Appsee's live iOS 8 update trackers take into account the percentage of users installing the update on devices which have apps using their mobile analytics products. From the data collected they inferred that iOS 8 take up was high, but about half that of iOS 7 in the first 24 hours.
There are a couple of tangible reasons for the slower pace of adoption of iOS 8. The update is far too big for many users to download over the air, and its requirement for free space on the device prior to installation is huge. While tethering the device to a computer and running the installation via iTunes solves this problem, it's an added step that's slowing things down.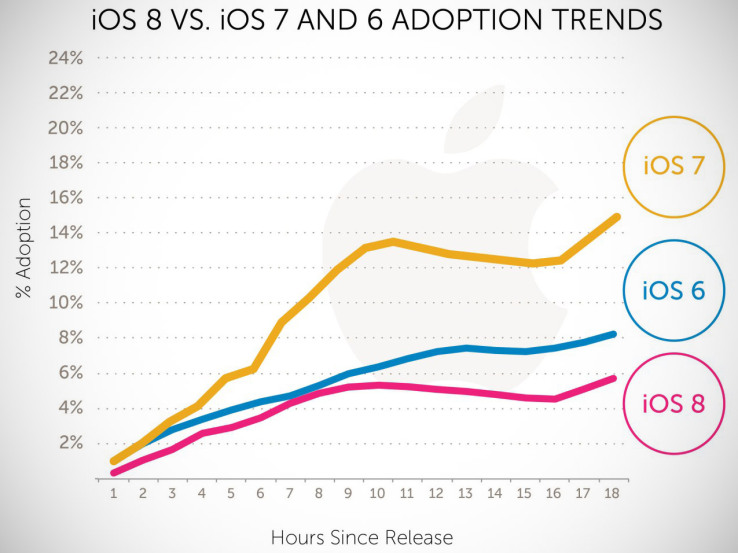 The other reason highlighted could be companies asking employees to refrain from updating their devices immediately due to security issues. Previous versions were found to come with a bugs which were fixed in a few days, but left devices at a greater risk of attack initially.
While iOS 8 adoption rates may be slower than its predecessor, when compared to Android 4.4 KitKat which took 9 months to achieve an adoption rate of 40 percent, Apple is clearly in the lead. The adoption rate of iOS 8 will receive a massive boost as soon as massive numbers of the iPhone 6 hit the market.
TAGS: Apple, iOS 8, iPhone, iPad, iPod Touch