Amazon Launches The New Kindle e-Book Reader In India At Rs 5,999
The device is now thinner, lighter and features a touch screen e-ink display, but not a front-lit screen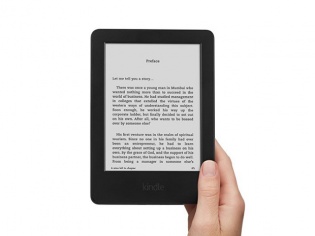 E-commerce behemoth Amazon has launched the all-new version of its Kindle e-book reader in India at Rs 5,999. The device sports enhanced hardware, is thinner and lighter than its predecessor and will begin shipping in India on October 9, exclusively via Amazon.in.
"Our new Kindle is small and light, with weeks of battery life, a 20% faster processor, twice the storage, and a touch interface," said Peter Larsen, vice president, Amazon Kindle, according to a Times of India report.
The new Kindle features a 6-inch e-ink display that now supports touch inputs as opposed to the non-touch panel on the previous model. Like its predecessor however, the Kindle only supports Wi-Fi connectivity and does not come with a front-lit display to make the screen legible in the dark.
Apart from the massive hardware upgrade, the new Kindle e-reader gets features like Whispersync that synchronizes the last page read, bookmarks and annotations across a users Kindle devices and apps. The device also features a built-in dictionary and gets Vocabulary builder, Kindle Freetime and Goodreads integration.
Users of the e-reader will have access to all books on the Kindle store, more than 30,000 free e-books on Amazon, over a million titles at Rs 299 or less and over 250,000 titles at Rs 99 or less.
TAGS: Amazon, Kindle, e-Book Reader, e-Ink display