Mysterious Hole On Leaked iPad Air 2 Case Hints At New Hardware | TechTree.com
Mysterious Hole On Leaked iPad Air 2 Case Hints At New Hardware
With no way to confirm the ligitimacy, we're truly perplexed by the new addition. You've got us Apple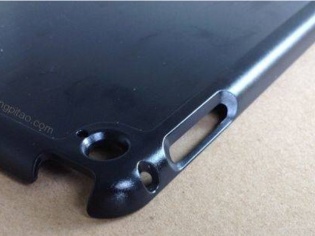 Now that the iPhone 6 and iPhone 6 Plus are out of the way, it's time for Apple's updated line of tablets to take over the news. We don't know a lot about the upcoming iPads, but an alleged photo of a case for the iPad Air 2 points at a small hardware change that has us perplexed.
The photos reveal a small hole in close to the proximity of the cutout for the rear camera, and seems to reside on the curved edge of the device. No one however seems to have any idea of the purpose of this mysterious hole just yet, so we are getting to hear some pretty bizarre predictions.
A long sought after LED flash, a laser autofocus system, a hotshoe for an external flash module? We don't know, but it's highly improbable for Apple to focus on making the iPad a device people use to take photographs and shoot video. However given the new addition's close proximity to the camera, it might just be.
As for the credibility of the photo, manufacturers do share dimensions of upcoming devices with case makers, and with the iPad rumoured to launch next month, it's very possible that the case is right. Still, there's a dimension of uncertainty, especially as to what new hardware feature Apple plans to give us this time around.