Samsung GALAXY Note 4's Exynos 5433 Is 64-Bit Capable
Its just that Samsung decided not to put it to use right now.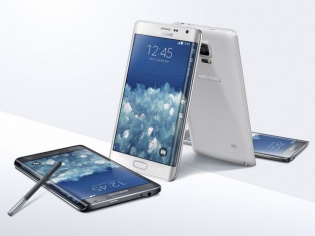 The guys over at Anandtech have discovered something pretty unique about the Exynos 5433 chipset that will come in the international variant of the Samsung GALAXY Note 4. The website after a little bit of research concluded that the A57 and A53 cores that reside inside the Exynos SoC are actually capable of 64-bit instruction. So why didn't Samsung release the chipset as a 64-bit one?
The recently announced Samsung GALAXY Note 4 was marketed and presented as 32-bit machine back at the IFA Berlin. But the A57/A53 combination is a 64-bit architecture and is capable of running the ARM v8 instruction as well. Earlier rumours about the Samsung GALAXY Note 4 being a 64-bit beast now suddenly seem to be true.
Currently Samsung seems to have just taken advantage of the new cores and the 20nm manufacturing process to to deliver better battery life and increased performance. This could in all probability be because Android in its current state cannot take advantage of the 64-bit chipsets any ways.
Android L will bring in 64-bit support to the Android OS. When that happens, handsets like the recently announced HTC Desire 820 will be able to take advantage of the 64-bit octa-core chipsets and unleash a performance increase of up to 30 percent. So is 64-bit not a big deal? With Android L still in the works, we will have those answers only once the final version of the software (let alone the name) is released.
TAGS: Mobile Phones, Hardware, processors, Android, Samsung GALAXY Note 4, Samsung