Microsoft's Note Taking Service OneNote Is Now On Android Wear | TechTree.com
Microsoft's Note Taking Service OneNote Is Now On Android Wear
The OneNote update also brings new features like 'Share' which allows users to share content from apps through social media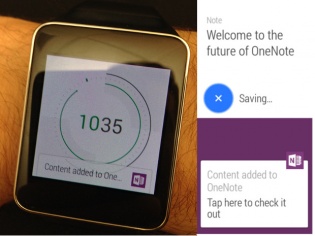 Who said Microsoft was MIA in the wearable space? The company still doesn't have a smartwatch, or a fitness tracker for that matter, but is bringing its services to the competition's wrist-worn platforms. OneNote is now available on Android Wear and will turn anything you say to it into a virtual sticky note.
OneNote for Android Wear will even respond to the phrase "Ok Google, take a note" which is sort of snappy, as it doesn't leave you mucking about searching for the app. The software will transcribe anything you say into a note, which is better than typing on a watch, but isn't so great if you need to save something personal.
The team at Microsoft also announced the new Share extension that allows users to 'share' content from apps using OneNote. The service will even let you to upload images and share website clips on social networking sites like Twitter and Facebook.
When it comes to improving productivity, OneNote will now allow users to forward email attachments to Microsoft's OneDrive cloud service. Other great features offer the ability to take a picture of a paper document and convert it to word document, and a picture of a whiteboard will produce a PowerPoint file.
TAGS: Microsoft, OneNote, Android Wear, iOS 8, Windows Phone 8.1