Android One Is All-Encompassing & Making Good Smartphones Cheaper
The company is even promoting data use and online/offline sales for its low-cost devices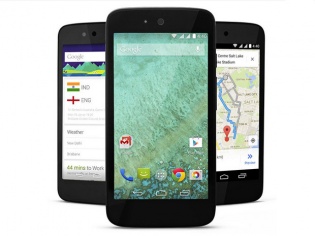 Google is finally beginning to deliver on its I/O promises, and unveiled its Android One program in India right in time to take advantage of the festive season buying rush. The first three devices will go on sale immediately and will take the online route initially, while hitting the traditional brick and mortar stores by October 2014.
We now know Android One isn't merely a hardware standard for manufacturers to follow, but a program aimed at improving the low-end smartphone experience. The company isn't only looking at the hardware and software aspects, but also things like ease of buying devices and Internet access at subsidized rates.
A huge part of owning an Android One device will be receiving timely updates right from Google, for which the company has tied up with operators like Airtel, allowing users to download OTA updates for free for the first six months. Apart from this, Airtel also lets users download up to 200MB of apps from the Play store for the same period.
In a way, Google is addressing pretty much every factor that holds back first time smartphone buyers from making a purchase by creating value. Even on the sales side of things, Android One devices will be sold via Flipkart, Amazon and Snapdeal at first, after which they'll even be available via offline retail stores.
In return for helping developing the low-cost smartphone environment in India, Google will gain valuable users - many of them who'll be upgrading directly from feature phones. Apart from being a valuable asset to the company in terms of selling its ads and services, these users will be inducted into Google's ecosystem, and it should prove a lot easier to retain them than say high and mid-range smartphone users.
Sundar Pichai, Vice President at Google, also used the launch event in Delhi to announce the second wave of Android One manufacturers. Brands such as Acer, Alcatel, ASUS, HTC, Intex, Lava, Lenovo, Panasonic and Xolo have been inducted into the program, along with chip making behemoth Qualcomm, who recently showed off its Snapdragon 210 processor that brings 4G connectivity to low-cost devices.
India is the first market for Android One, but is by no means its only one. The country was chosen as a test bed for its exploding entry-level device market and frugal homegrown manufacturers. Google now plans to take Android One to other South Asian countries such as Bangladesh, Indonesia and Philippines, before the end of 2014.
While the first set of devices are priced around $100, it is to be seen if this can be lowered in the near future. With Mozilla aiming at the ultra-low-cost (sub Rs 4,000) smartphone segment in the country, it is paramount for Google to lower costs in order to scoop up first-time smartphone buyers.
TAGS: Google, Android One, low-cost smartphone, Indian Smartphone Market