Android One: Uninspiring Specs, But Performance Is Key
Flipkart spilt the beans on Spice's first Android One smartphone early, so we now know what exactly to expect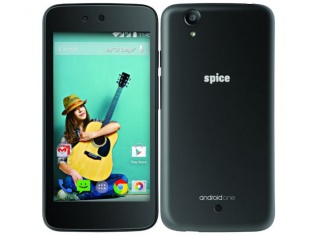 Google is all-set to unveil the first lot of its Android One smartphones later today, but a slip-up on the part of e-retailer Flipkart has given us a pretty clear picture at what to expect. A smartphone listed under the name "Spice Android One Dream UNO Mi-498" leaked onto the site, carrying a price tag of Rs 6,999.
Flipkart later removed the listing, but not before keen-eyed Indian tech sites saved screen shots and noted down the specifications of the device. The Spice Android One Dream UNO Mi-498 (we know that's a mouthful) is equipped with a 4.5-inch display with a resolution of 854x480 pixels and is powered by a 1.3GHz MediaTek processor.
Other specifications include 1GB of RAM, 4GB of internal storage, a microSD card slot, a 5MP primary camera and a 2MP secondary unit. The camera on the back supports video recording in Full HD (1080p) and is even assisted by a flash module, a rarity at such a low price point. All this hardware is powered by a 1,700mAh battery.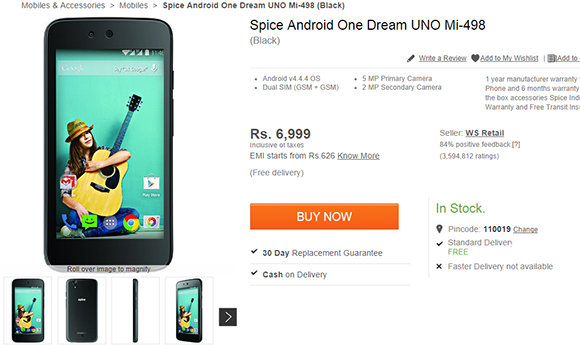 Still, going by the spec sheet, Google's Android One devices don't seem that awe inspiring, but that was never supposed to be the point. Google will handle everything when it comes to the software side of things, and the Spice device will come equipped with Android 4.4 KitKat, and in all likelihood Android L soon after it is released.
Wi-Fi, 3G, Bluetooth 4.0 and A-GPS are the narrow range of connectivity options available on the Dream UNO Mi-498, which again is in keeping with what's already on offer at the price point. What will surely lure customers is the prospect of pure Android, along with the guarantee of the device performing smoothly regardless of the small specs.
Micromax and Karbonn are the other two companies expected to unveil their Android One devices at today's Google event, while Intex and Celkon's offerings will come later. The first wave of Android One devices will be available for purchase from September 15 3:30PM IST, so it won't be long before we know if Google hits the jackpot or not.
TAGS: Google, Spice, Android One, Dream UNI Mi-498, Flipkart, low-cost smartphone