Samsung Pokes Fun At Apple's iPhone 6 & Watch In A Bunch Of Ads
While a little competition inspired humor is good, out-of-court battles are even better
Apple launched two new iPhones and a smartwatch on September 9, ushering in a new era where the company seems to be more receptive to industry trends. While that's great news for Apple fans and many others, it's not so great for Samsung who's been the dominant player in the large-screen phone and smartwatch space.
In due diligence, the group of Apple-rubbishers have been hard at work trolling the company's every 'so-called breakthrough' and Samsung seems to be taking charge of them. The company has poked fun at everything from Apple's stream to its smartwatch in a bunch of adverts, and even revived the "It doesn't take a genius" tagline.
The Cupertino company has indeed scooped up a few ideas from the Korean giant – the inventors of the phablet – this time around and Samsung isn't going to let them off the hook. Larger screens, multitasking windows, faster charging and a smartwatch that still needs a smartphone to be connected, all of Apple's moves have now become bait.
While we don't mind a bit of competition inspired humor, what's really great is that this time around the two companies are battling it out at the storefront rather than in courts. Apple can't merely stick the word 'innovation' beside every new feature they've introduced this year and Samsung is making sure that happens.
Here's another funny comparison of the iPhone 6 and LG Nexus 4 from Ron Amadeo.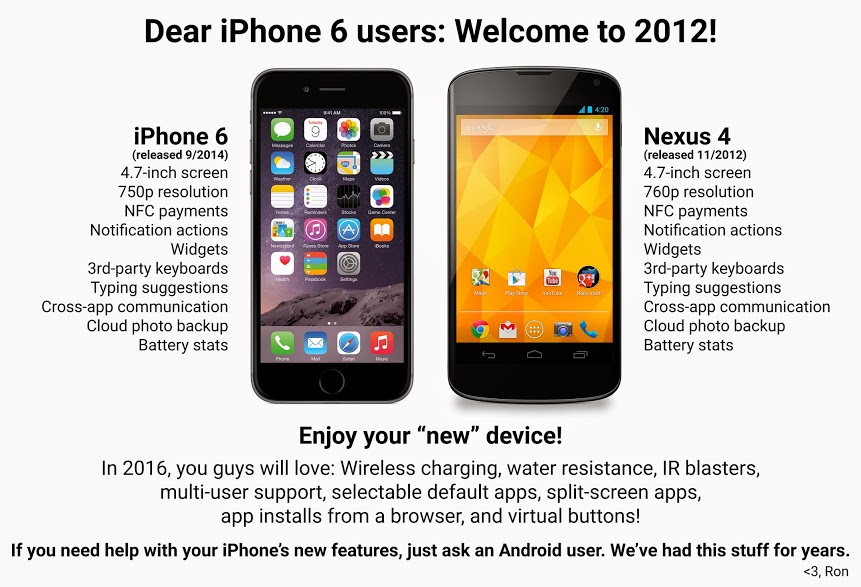 TAGS: Samsung, Apple iPhone 6, GALAXY Note 4, Apple Watch