Samsung's Gear VR Headset Is Powered By A Note 4 And Oculus | TechTree.com
Samsung's Gear VR Headset Is Powered By A Note 4 And Oculus
The Gear VR will go on sale before the end of 2014, making Samsung the first company to bring VR headsets to the public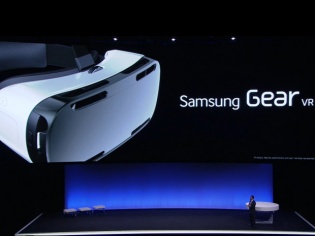 Virtual reality is taking the world by storm, and Samsung (being Samsung) wants to own the market. The company unveiled its Gear VR – a virtual reality headset that is powered by the Galaxy Note 4 – at the IFA 2014 trade show in Berlin, and promised the device would go on sale sometime this fall.
When we say the Gear VR is powered by the Galaxy Note 4, we literally mean it. The smartphone slots into the front of the headset and acts as its screen, which should be great given the the Note 4 comes packing a QHD display. Even the VR software, which is built by Facebook's Oculus runs on the phone.
The Gear VR's adjustable head mounting straps, adjustable lenses and a few controls turn the Galaxy Note 4 into a full blown VR headset. On the downside, you're going to have to own a Note 4 in order to even consider getting yourself the headset.
Another downside to using the Note 4's hardware rather than a PC or a PS4 is that the graphics aren't going to be anywhere as impressive. Also, without the ability to pair the device to a dedicated gaming device or PC means you're going to be using the Gear VR to play basically mobile games, which isn't as bad as it seems.
That said, there are no cables dangling from the headset, giving its users much more freedom to move about than things like the Oculus Rift headset. However, do we think something like the Gear VR is the future of virtual reality? Absolutely.
The capability of smartphones is growing, and with that power of virtual reality using handsets will only get better. Also, the Gear VR can spark off a revolution, making Sony and Microsoft churn out similar gadgets for their smartphones, but with the ability to pair with their respective gaming devices.
Samsung did not reveal any pricing details about the Gear VR, but given that works exclusively with the Galaxy Note 4, we can assume the company will make us a bundled offer. As Samsung looks to find with new ways of getting people to buy its Smartphones, the Gear VR looks like one of their better experiments.
TAGS: Samsung, Gear VR, GALAXY Note 4, virtual reality, IFA 2014