Samsung Partners With Nokia To Bring Here Maps To Android | TechTree.com
Samsung Partners With Nokia To Bring Here Maps To Android
Is this another move by the Korean giant to defy its partner Google?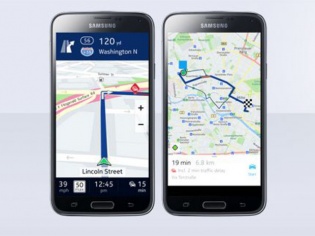 Despite being the largest seller of Android-powered smartphones in the world, Samsung and Google aren't really the best of friends. A tussle between the two companies has surfaced over issues such as the excessive customization of Android and Samsung's investment in Tizen – its own software to power smart devices.
The growing disparity between the two firms is once again seen in Samsung's move to partner with Nokia to bring Here Maps to Android. Considered to be the only real competitor to Google Maps at the moment, Here has so far been restricted to use on Windows-powered devices – a minority in the smartphone market.
According to an official blog post, Nokia says its mapping service will be available on a select number of Samsung handsets, and even the company's Tizen-powered Gear S smartwatch. Given that Samsung's phones and the wearable can be paired, you could flip between your phone and watch screen to get directions.
Despite being an obvious second to Google's mapping service, Here offers several useful features that in many ways make it better. It offers an offline navigation functionality without having to cash chunks of a map on your device, like in the case of Google Maps. This is great if you're looking to save on those data bills or simply don't have net connectivity where you're going.
Another great function is Glympse, which allows you to instantly share your location with a friend to allow them to know where in the world you are. This feature only works if you turn it on and by default is set to turn off after a certain amount of time.
Coming back to the Samsung-Google issue, Here Maps on Android is a way for the company to tie in its Tizen devices to its current crop of smartphones. Going forward, we wouldn't be surprised to see Here maps as the official mapping service on Samsung's Tizen smartphones (if we ever get to see one that is).
TAGS: Samsung, Nokia, Here Maps, Google, Maps, Tizen, Android