Leaked: The Moto X+1 Could Get Fire Phone-Like 3D Capabilities
Press images of the device leaked by @evleaks shows four dots on the face of the device that could be head-tracking cameras.
Motorola is all-set to unveil the successor to its flagship Moto X smartphone, possibly at its September 4 event. We already have a fair picture of the device's specifications and design, but new images from soon-to-retire leaker Evan Blass (aka @evleaks) hints at Amazon Fire Phone style 3D head tracking capabilities.
Mostly the newly leaked press images confirm what we already know about the Moto X+1 – dual camera flashes, a selection of wood and plastic backs and Moto E style front-facing speakers. However, observing the image more closely, reveals four dots placed at the periphery of the screen, similar to Amazon's Fire phone.
While there's no way of knowing what exactly those dots are, until of course Motorola unveils the device, it's highly unlikely that Motorola opted to keep some screws exposed, especially on the face of the device. The best guess we can take right now is the Moto X+1 will get head tracking capabilities, which will let users perceive screen elements in 3D no matter which angle they look at it from.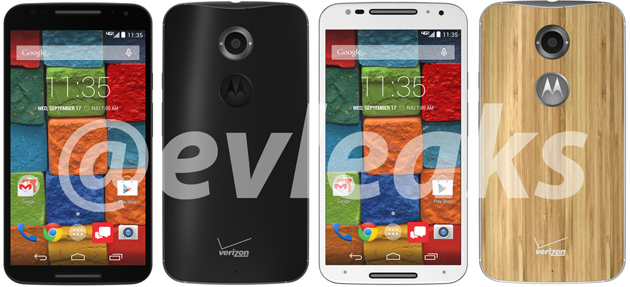 The latest images give us a very vague clue into what we could see from Motorola, who have now made a name for themselves in offering some of the most useful features on Android. Even if the device has 3D head tracking capabilities, it will be interesting to see how well it works or how gimmicky it might be.
TAGS: Motorola, Moto X+1, 3D Smartphone, Amazon, Fire