Government To Launch $35 Tablet On Oct 5 | TechTree.com
Government To Launch $35 Tablet On Oct 5
Will be made available to students on a priority basis.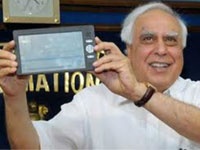 The long awaited $35 (Rs 1735) dream tablet promised by the Indian government will finally see the light of the day as the launch date has been fixed for October 5. The low cost computing device touted to be the cheapest in the world, has been a project drawn on lines similar to the OLPC, with the students being the target beneficiaries.

HRD Minister Kapil Sibal said at a function, "The computer will be launched next month. This is not just a dream, it is a reality". While he said that the name for the device has been finalised and will be announced at the time of the launch, he declined to elaborate further. He stated that this computer will prove to be a very useful tool for students because it can do everything expected of a computer with internet connectivity.

Sibal had unveiled the prototype of this device in July last year. It is expected to have a 5 \ 7 \ 9 " touch screen with an internet browser, PDF reader, video conferencing facilities, Open Office, Sci-lab, media player, remote device management capability, multimedia input-output options, and multiple format file viewer. The actual specifications still remain under the covers and will be revealed only when it is actually launched. However, it was reported not long back on this website that the name of the tablet is Sakshat and its specs were also revealed along with the news that it will be launched in June, which never happened. We don't have any reason to believe that it is not the same tablet that is going to be launched on October 5.

The HR ministry has stated that the device will be launched with a considerably low $35 (Rs 1735) price tag at the start, which will eventually be slashed to $20 (Rs 990), and finally to $10 (Rs 495) over a period of time. Let's hope that the government delivers something real on October 5.