Leaked: Moto 360 Smartwatch To Cost $249.99 According To Best Buy | TechTree.com
Leaked: Moto 360 Smartwatch To Cost $249.99 According To Best Buy
That makes Motorola's smartwatch the most expensive Android Wear device on the market, but not by much.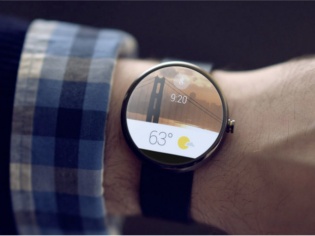 Motorola is all-set to unveil the Moto 360 smartwatch at an event in Chicago early next month, but that hasn't stopped large-scale retailer Best Buy from leaking a few details. On Sunday a product page for the Android Wear smartwatch accidentally went live, which listed the device with a $249.99 price tag.
This is the second time that we've heard the Moto 360 will cost $249.99. A contest held by Motorola earlier had the same price listed in the official set of rules, letting us estimate what the watch could retail for when launched. News of the rogue product page was first outed by Droid Life yesterday, along with some other details.
According to specifications revealed by the Best Buy page, the Moto 360 will sport a 1.5-inch display with a resolution of 320x290 pixels, which is protected by Gorilla Glass 3. Other details confirmed that the smartwatch will be waterproof, and will come packing a heart rate sensor and pedometer as well.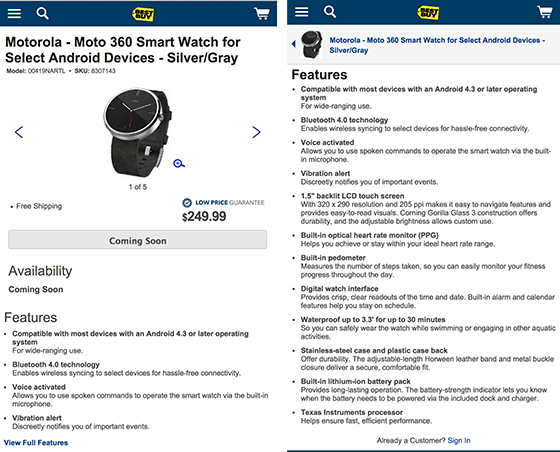 If the leaked price is right, the Moto 360 will be the most expensive Android Wear device on the market, but that shouldn't matter. Motorola's smartwatch will cost $50 more than LG's G Watch and $21 more than the Samsung Gear Live, but justifies the increase in price incredibly well.
Unlike its more mundane rivals the Moto 360 features a circular display, which in itself is an oddity in the current smartwatch market. The device also comes with a stainless steel body and charges wirelessly, with the lack of any ports on the device. We recently also got wind that the Moto 360 could last up to two and a half days on a single charge, which is much longer than LG and Samsung's offerings.
We however advice you to take the latest news with a pinch of salt, as leaked product pages have been wrong in the past. The listing did not come with a specific release date either, apart from the very vague "Coming Soon" tag. If the Moto 360 does carry a $249.99 price tag, Motorola will undoubtedly have a winner on their hands.
TAGS: Motorola, Moto 360, smartwatch, wearable, Android Wear, LG G Watch, Samsung Gear Live