Apple And Samsung's Rivalry Set To Reach New Heights | TechTree.com
Apple And Samsung's Rivalry Set To Reach New Heights
It is to be seen if Apple gets the phablet formula right the very first time, and if people warm up to Samsung's first metal-body smartphone.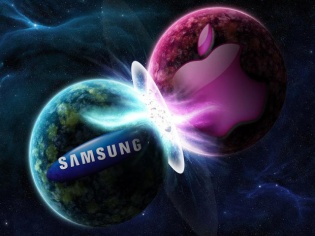 The stage will be set when Apple launches its iPhone 6 in September this year, which according to reports will come in two sizes unlike before. While this is a play right out of Samsung's book, the Korean giant too is looking to ditch its image of making cheap phones, opting for aluminum on its Galaxy Alpha.
While its clear that both companies have each other in their targets, they are still looking to imbibe the best qualities from each other. In the past Samsung has been accused of copying from Apple, but this year there seems to be a radical shift in Apple's ideas which have been tried and tested by Samsung.
The market is looking forward to the promising features of iPhone 6, especially its bigger screen/screens, stronger battery life and a super HD camera. Also the addition of near-field communication (NFC) should make the devices a lot more desirable when tied in with Apple's amazing build quality and legendary design.
A September launch for new iPhone models has come to be accepted as tradition, with reports suggesting Apple has ordered 70-80 million units of the device by the end of this year. The company's entry into the phablet market with the 5.5-inch iPhone is seen as a direct attack to Samsung's dominance of the segment.
Samsung is planning to counter the attack with the next generation Galaxy Note, which is expected to pack in even more features than its predecessor. While the Galaxy S5 should have been the ideal rival to the smaller iPhone, the device's unpopularity has forced the company to work on the premium metal-bodied Galaxy Alpha.
With Apple and Samsung planning to launch very similar high-end devices, the month of September is set to be one of the most exciting for tech enthusiasts in a long time. However, there are just two questions – Will Apple get the phablet formula right the very first time? And will consumers warm up to a premium Samsung device or go back to calling it a cheap Apple knock-off?
TAGS: Apple, Samsung, iPhone 6, GALAXY Note 4, Galaxy Alpha, Mobile Phones