Leaked Images Of The Alleged Lumia 730 "Superman" Emerge | TechTree.com
Leaked Images Of The Alleged Lumia 730 "Superman" Emerge
While the device is rumoured to house a 5MP front facing shooter, it's hard to ascertain the fact from the images.
A new mid-range device from Microsoft has been on the charts for some time now, with recent rumours suggesting a selfie-focused device codenamed Superman is on its way out. WPCentral has got its hands on some images showing what it claims to be a Lumia 730, running a new firmware called Debian Red.
TheVerge recently showed us what the Lumia 830, codenamed Tesla, would look like, and now we have photos of the lower cost Lumia 730. Both devices are expected to arrive in the next few months, with the Superman device expected to pack a 5MP front-facing camera, aimed at the selfie loving buyer.
It's hard to ascertain from the images whether the device does in fact come with a 5MP image sensor up front, or for that matter will be equipped with a 4.7-inch screen. What it does tell us is, like the recently launched Lumia 630, the device will feature on-screen navigation buttons.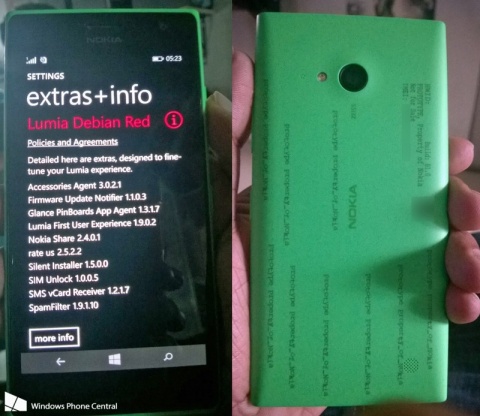 The biggest revelation from the leak however is the upcoming Debian Red firmware update. It's the first time we're hearing about it, and the report suggests its a Lumia-specific take on the WP 8.1 Update 1. It isn't clear what the new update will bring, but it should however offer more than what came with the Cyan update.
[Also read: Confirmed: Microsoft To Launch 'Superman' And 'Tesla' Very Soon]
A leaked memo from Microsoft's Jo Harlow said that the new high-end devices will be launched very soon, but given that Debian Red hasn't been announced yet, we think it could take a bit longer for selfie-loving buyers to get their hands on the perfect Windows smartphone.
TAGS: Microsoft, Lumia 730, Superman, Debian Red, Mobile Phones