TechTree Blog: Dhoom 3 Trailer — Déjà Vu, Anyone? | TechTree.com
TechTree Blog: Dhoom 3 Trailer — Déjà Vu, Anyone?
The latest Dhoom 3 promo doing the rounds seems awfully familiar.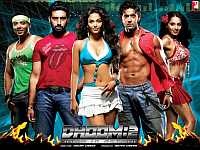 Going by the flood of questions regarding the much-hyped Bollywood flick, it seems that everybody and their autorickshaw driver uncle hungers for dope on Dhoom 3. It's therefore understandable that my car mechanic insisted that I watch the latest "high-tech" Dhoom 3 trailer. I obliged, expecting a lulz-fest involving poor CGI and Uday Chopra, but mostly the latter.

Fortunately, there wasn't much of Uday Chopra, but the visuals turned out to be slicker and way better choreographed than what I'd expected. Heck, the trailer even mentioned Rajinikanth, in addition to the confirmed star cast of Abhishek Bachchan and Aamir Khan. Under such circumstances, I wonder how Chuck Norris missed the party.

However, that wasn't the only thing off with the trailer. It seemed to be ripped straight off the promo for the 2010 reboot of Need for Speed: Hot Pursuit. A closer look proved that this was indeed the case, albeit with a bit of token Dhoom 3 branding shoehorned in for good measure. The video has already racked up over 3 lakh views as of this writing, but take our word that it's as dubious as Pritam's "original" compositions. I suspect it's just some kid getting creative with Windows Movie Maker. Incidentally, the music director will join the Dhoom 3 team for a third outing. This means some poor Korean musician will eventually get ripped-off big time.

Dhoom 3 is expected to release in December next year, but we're betting on the 2012 apocalypse to bail us out of this one. Here's the trailer for posterity — and of course, the lulz.

TAGS: TechTree Blog, Gaming, Culture, Movies, Transportation, Nachiket