Samsung Announces 'Bendable TV' For 3D-Like Effect Without Glasses | TechTree.com
Samsung Announces 'Bendable TV' For 3D-Like Effect Without Glasses
Brings wood back to the Television set.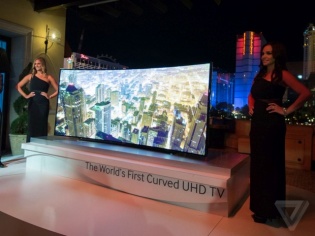 Samsung has announced their latest TV set at a private unveiling tagged as the "Bendable TV". The TV is just a concept for now, but certainly seems to have turned heads thanks to one unique feature -- the ability to go from flat screen to a curved screen in seconds.
Yes, the 85 inch prototype at the event of Ultra HD resolution simply wowed audiences as it transformed from a flat screen to curved one in a matter of seconds. Samsung apparently feels that some viewing experiences actually call for a curved display while the rest of time one would simply enjoy a flatter one.
Bendable display aside, the TV brought something back in terms of design which has disappeared from the consumer electronics scene for a very long time. We are talking about wood, if you thought that front of the TV was impressive, the back was equally stunning, with a single plank of wood stretched from end to end.
The prototype does of course come with its own set of tricks and features, including an "auto depth analyser" that will literally adjust parts of the image to deliver more depth to your viewing experience. Add a curved display to that and you pretty much can avoid 3D glasses altogether. There is no word on pricing and availability of the product just yet.
Image Courtesy: TheVerge
TAGS: Televisions, TV, Samsung