Sapphire Introduces EDGE-HD3 Mini-PC | TechTree.com
Sapphire Introduces EDGE-HD3 Mini-PC
AMD Fusion-based nettop combines adequate performance with frugal power consumption.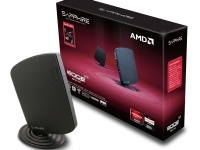 I'm not an eco freak, but I believe it's wasteful to use a power-hungry desktop PC for regular web surfing, productivity applications, and as a download rig. For such activities, you can check out a setup similar to Sapphire's EDGE-HD3 instead. It incorporates AMD's well-specced E-450 Fusion APU to deliver adequate computational power with a TDP (Thermal Design Power or typical power consumption) of 18 watt for the entire chipset. Just don't confuse AMD's APU with Simpson's Apu Nahasapeemapetilon. The former is a marketing term for low-cost computing platforms incorporating the CPU and GPU on the same die for better performance with minimal power usage. It's no secret that that AMDs Fusion APUs are much faster than the rather underpowered Intel Atom processors.

In addition to a competent AMD Radeon HD6320 GPU, the EDGE-HD3 mini-PC is packed to the gills with 4 GB of DDR3 1333 MHz RAM. The rear end bears a D-sub (VGA) port as well as an HDMI output, which can be converted to the DVI standard with the supplied conversion cable. Network connectivity includes Gigabit LAN and 802.11 b/g/n wireless infrastructure. This 530 gramme PC bears USB 3.0 capability and a 320 GB hard drive, which is pre-loaded with FreeDOS. This leaves users free to load any OS of their choice. Sapphire hasn't revealed pricing details on the device yet, but expect it to reach your local hardware haven shortly.