You Can Now Unlock Your Moto X With A Digital Tattoo | TechTree.com
You Can Now Unlock Your Moto X With A Digital Tattoo
Say goodbye to PINs, passwords or patterns to get into your smartphone.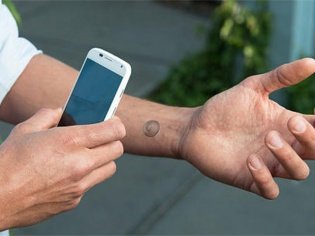 Motorola has been a fan of securely unlocking smartphones without the traditional PIN, password or pattern, and even sells you the Skip if you're interested. Now, taking things to the next level, the company has tied up with VivaLnk to launch a digital tattoo – an NFC based skin tag that unlocks your device with a quick tap.
Unlocking via Digital Tattoo will only be possible if you own a Moto X, but it's the tattoo that we're really interested in. According to Engadget, the tattoo can stay on your body for up to five days and should survive showers or the excessive perspiration after a long run.
The idea could appeal to those that are tired of entering a PIN or password every time they need to access their device, or are too forgetful to clip on the Skip when they get out of the house. However, it isn't a cheap method of unlocking your device, as VivaLnk is asking $10 for a pack of 10 tattoos that should be good for 50 days.
The Digital Tattoo is a novel way of improving security as well as making it easier to use your smartphone if you believe that entering a password is a hassle. However, given the price, we're still waiting for the permanent version to really get into the Digital Tattoo fad.
For now we'll stick to something like the Xiaomi Mi Band, or Skip for that matter, to unlock our smartphones for us.
TAGS: Motorola, Moto X, VivaLnk, Digital Tattoo