You Could Soon Be Buying Products From Within Facebook
The social networking giant is testing a 'Buy' button in ads and posts for users in the US.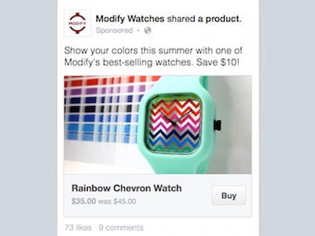 Social networking giant Facebook is currently testing ways to allow users to make purchases from within its own app or site. Users in the US could see a 'Buy' button on posts and ads in their News Feeds, letting them purchased products from a select few small and medium businesses Facebook has tied up with.
The company is currently not charging businesses for the service, but said that could very well be an option in the future. So far advertisements and product posts on the social network lead users to the merchant site, but with the new feature, users can complete the entire purchase from within Facebook itself.
Users will be able to make payments with the credit card they've linked to Facebook, enter new payment details and even save them for future use. The company claims it will not pass on any of the payment details to other advertisers, addressing a major privacy concern.
Facebook has been showing a few signs of foraying into the e-commerce space for some time now. The social network began on-site payments to charities with a Donate button and the 'Auto-Fill With Facebook' option when making purchases on third-party e-commerce sites.
Rival Twitter too is testing a similar 'Buy' button, with all indications of the two companies getting into a social e-commerce war. If Facebook's experiment works, it could begin charging a fee or a share of the revenue from sellers, and also improve conversion rates.
TAGS: Facebook, E-Commerce, Twitter