Control Windows Media Center With Kinect! | TechTree.com
Control Windows Media Center With Kinect!
$7 add-in brings gesture control to the Windows HTPC platform.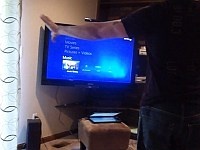 After having witnessed numerous hacks that turn the Kinect motion sensor into various forms of a Minority Report like gesture controller, here's yet another one. This latest Kinect gimmick is meant exclusively for the recently launched Windows version of the motion control device. It enables full gesture control for Windows Media Center. Although it isn't compatible with the X360 version of the Kinect due to restrictions laid down by Microsoft, the Windows-exclusive implementation lets you control playback, browsing, and pretty much the entire interface using nothing but your bare hands. It also supports voice recognition that's smart enough to disregard words emanating from the TV. The Kinect for Windows Media Centre add-in costs $7 (Rs 350 approx). Check out the video below to see it in action.