Google's Chrome May Soon Support Oculus Rift & Cardboard VR Headsets | TechTree.com
Google's Chrome May Soon Support Oculus Rift & Cardboard VR Headsets
While a wholly immersive web experience is a long way off, but certain 3D experiences should be cool.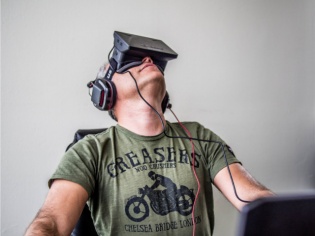 Google is currently working towards adding support for virtual reality headsets like the Oculus Rift and Cardboard into its Chrome browser. While that doesn't mean your entire web browsing experience will be transformed into a 3D space, it does open up opportunities for developers to create interactive exhibits online.
The best example of using VR on the web (for now) would be creating 360-degree product shots and interactive installations.
Picture this: Users could view virtual mannequin wearing a piece of clothing they're planning to buy. Everything will appear in a 1:1 scale and users can lean in and examine something as minute as the stitching.
The announcement was made by Google's Brandon Jones in a blog post, making Chrome the second browser to poke around the idea of WebVR after Firefox. The idea is still a long way from making its way to consumers, but does lay the foundation for a more immersive web browsing experience.
Currently virtual reality will limit itself to a certain pockets on the web, such as Google's Street View or a service offering virtual tour of tourist spots. However, when it comes to a wholly immersive web experience, "That day is a long ways off, if it ever gets here at all," as said by Jones.
TAGS: Google, virtual reality, Chrome, WebVR, Oculus Rift