Zebronics Launches Zeb-NC4000 Laptop Cooler
Packs in dual-fan cooling for Rs 750.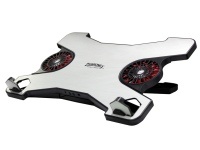 Thermal issues and laptops go hand in hand. It is therefore wise to use a laptop cooler. That is, unless you're content using it on a desk, which practically defeats the very purpose of a portable device. If expensive coolers have put you off from purchasing this necessary evil, here's something that should interest you. Zebronics has launched a dual-fan laptop cooling pad for half the price of a single-fan cooler. Priced at Rs 750, the Zeb-NC4000 Premium Laptop Cooling Pad packs in two 70 mm fans operating at a speedy 2300 RPM to deliver an airflow of 16 CFM.

The accessory is advertised to house not just laptops ranging between 11" and 17" in size, but also portable devices such as tablets and netbooks. To secure your laptop, the Zeb-NC4000 employs two hinged holders at the bottom, which can be retracted for easy storage. Its detachable USB power cable can be stowed away inside the cooler for further convenience. The cooling pad features a stand designed to assume five different angles. This should make finding the perfect typing position easy. Built using aluminium and plastic, the Zebronics Zeb-NC4000 weighs under a kilo. While this may not be exactly lightweight, the build quality hopefully will make up for its bulk.