Asus May Launch Its ZenFone Range Of Smartphones In India On July 9 | TechTree.com
Asus May Launch Its ZenFone Range Of Smartphones In India On July 9
The company will look to compete in the sub-Rs 25,000 smartphone segments, with 3 or 4 different devices.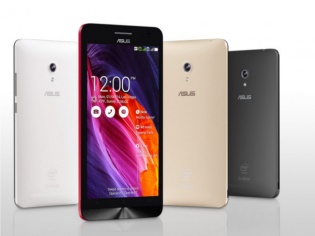 Electronics giant Asus is all set to launch its ZenFone range of devices in India on July 9, to compete in the budget and mid-range smartphone segments. The phones will be powered by a variety of processors from both Intel and Qualcomm, with screens ranging in size from 4-inches to 6-inches.
According to the Times of India, Asus will bring its ZenFone smartphones, which made their debut at CES 2014 and the Computex convention which was held recently. The devices have already gone on sale in the Chinese market, and India will be one of the first markets to get the updated line of devices showcased at Computex.
The largest model in Asus' arsenal will be the ZenFone 6 which sports a 6-inch HD screen. The device is powered by a 2GHz dual-core Intel Atom processor, coupled with either 1GB or 2GB of RAM depending on the variant. The phablet runs on Android KitKat 4.4.2, comes with storage options of 8, 16 and 32GB and a 13MP primary camera.
The second model that will make its way to India will be the ZenFone 5 which as its name suggests sports a 5-inch HD display. While the model unveiled at CES was powered by Intel's Atom processors, the device which should make its way to India will be powered by a 1.2GHz Snapdragon 400 processor. This along with 2GB of RAM, either 16 or 32GB of internal storage memory and an 8MP primary camera.
The most budget device in Asus' range of smartphones will be the ZenFone 4, featuring a 4 or 4.5-inch WVGA display, depending on the variants unveiled at CES and Computex. The device will be powered by a 1.2GHz Intel Atom processor coupled with 1GB of RAM. The device will feature an 8MP primary camera, and like its larger 5-inch sibling will run on Android 4.4.2 KitKat.
Asus could introduce the updated MemoPad and FonePad in the Indian market alongside its smartphone lineup. The two devices have been selling here for a while now, but with the updates coming recently, the company could look to fast-track their launch in the Indian market.
TAGS: ASUS, ZenFone, Mobile Phones, Android, mid-range smartphone, budget smartphone