Quixey's Search Engine Will Help You To Find Best Apps | TechTree.com
Quixey's Search Engine Will Help You To Find Best Apps
Google Search already has similar functionality, but is currently restricted to its own services.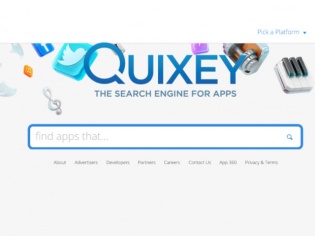 US-based startup Quixey has created a search engine with the ability to look into apps installed on your smartphone to find you what you're looking for. Search giant Google currently has similar functionality, but is restricted to information served up by its own services.
The search engine isn't restricted to searching information through apps installed on your smartphone, but can also offer up more traditional search results. Think of it as a way of not having to enter a particular app, but instead using a search bar to key in your query and having the engine pull the information from the app.
"A search bar is the better way to use third party apps - and the Quixey vision is to put that search bar on every device," said Liron Shapira, co-founder of Quixey.
For example, if you use Quixey's search engine to find "The best Thai restaurant in Mumbai", you could be directed to a screen or page on the Zomato app or web page (or a similar service) giving you a list of results.
It isn't know if only specific apps will support Quixey search or is it universal. The other key issue which could prop up is access to apps which you have personal information saved on, such as messaging, mail or even banking apps.
We're sure the app developer community is split on the usefulness of Quixey's search engine, with issues of functionality and security coming to the fore. Moreover, Google's vast knowledge of what's on the web and efforts to tell you what you want before you even ask it to, puts Quixey on shaky ground.
It still is a very innovative (but certainly not new) way of projecting the power of search engines. Google has for the past couple of years been trying to make the search bar the centre of your smartphone experience, and has made leaps and bounds in the type of information you can search from within it.
TAGS: Quixey, search engine, Google search, Google Now