BlackBerry Launches BBM Protected, A More Secure Messaging Client | TechTree.com
BlackBerry Launches BBM Protected, A More Secure Messaging Client
Aimed at enterprise customers, each messages has its own encryption key, making it extremely hard to decode a conversation.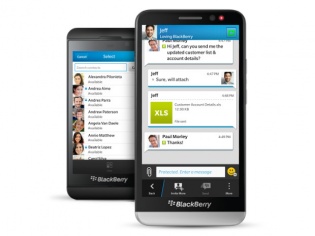 Struggling Canadian handset manufacturer BlackBerry has launched its BBM Protected messaging client targeting government, insurance and banking users. The service provides users to send instant-messages with several layers of encryption to protect sensitive data.
BlackBerry has for long been the go-to brand for business users, but with Android and iOS stepping up their focus on security and features tailored to enterprise customers, the company's customer base has eroded. BlackBerry isn't however completely out of the game, with BBM Protected being the first piece of its proposed eBBM suite.
BBM Protected was announced earlier this year, and allows users to chat securely with their colleagues and even message family and friends from the same app. When it comes to security, each message sent using the messaging client has its own encryption key, making it extremely hard to decode an entire conversation.
Currently the service is supported by devices running BBOS 6.0 or later and even runs on BB 10 handsets in Regulated Mode. The beauty of the app is that Protected messages aren't limited to users of the service within a single organisation, and messages can be sent to anyone using BBM.
Given that BlackBerry has been actively taking its services to Android and iOS, expect tailor made BBM Protected apps for both the competing platforms soon.
TAGS: BlackBerry, BBM Protected, Apps, messaging client, Privacy