Alcatel Joins Quad HD Smartphone Race With A 638 Ppi Display | TechTree.com
Alcatel Joins Quad HD Smartphone Race With A 638 Ppi Display
Graphics performance benchmarks point to a device with Quad HD display and the shiny new MediaTek octa-core chipset.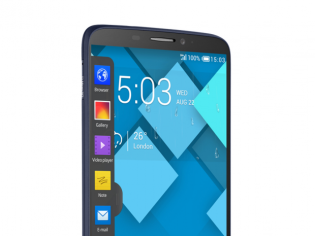 Whether Quad HD (2560 x 1440 pixel) displays are over-kill or simply outrageous is something that only smartphone makers can decide. After Oppo and LG, Alcatel seems to be thinking of taking the same path for its upcoming smartphone the OneTouch D820. Leaked graphics performance benchmark results show an Alcatel device tagged as the One Touch D820 shows some pretty impressive hardware specifications including pixel dense Quad HD display and an octa-core chipset from MediaTek, which was announced in early April.
Diving into the details of the leaked benchmark results, the smartphone seems to have pixel dense 4.6 inch display with a 2560 x 1440 pixel array tightly packed in. If our calculations are correct we should have a record breaking 638 ppi display on the D820, which will beat the competition hands down.
Inside we find a MediaTek MT6569 octa-core SoC clocked at 1.8 GHz (can go all the way up to 2.2GHz), which is a mid-range chipset built to power devices that fall below the flagship range. There is a hefty 3GB of RAM to support the Quad HD display and the device will come with 12GB of internal memory that will hopefully be expandable via a microSD card slot.
[See Also: MediaTek Shows-Off Its New Octa-Core Chipset At CITE 2014]
Considering that this is a mid-range device with a Quad HD display, the report also shows a 8MP front facing and primary camera as well. Also included is UHD (4K) video recording for both the primary and secondary camera, which considering the swift chipset will not be a problem.

The Alcatel OneTouch D820 is expected to be powered by Android 4.4.2 which is great, but it all depends upon when this handset will see the light of day. This is because today's fastest smartphone can easily get obsolete in a few months' time thanks to the quick pace of hardware innovation that Android so willingly supports.
TAGS: alcatel, quad HD display, Mobile Phones, Android