Motorola Launches The 64GB Variant Of Its Flagship Moto X At $499 | TechTree.com
Motorola Launches The 64GB Variant Of Its Flagship Moto X At $499
The company is also rolling out a 'Try Then Buy' program, allowing buyers to preview the phone for two weeks before making a decision.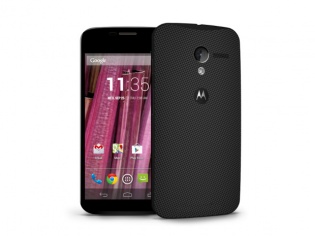 Motorola has confirmed that a 64GB variant of its ageing flagship Moto X smartphone will be coming to the US at a price of $499. The new device will cost $100 more than 32GB ($399) variant of the Moto X, and will be launched ahead of its much speculated successor X+1.
Along with the roll-out of the 64GB Moto X, the company is also offering customers a chance to try the phone for two weeks before buying it. The 'try then buy' program will cost prospective customers just $0.01, and will let them customise their phones via the Moto Maker tool.
Motorola has confirmed that the 64GB Moto X will come to US carriers - AT&T, Sprint, T-Mobile and Republic Wireless, however there isn't any news of the phone coming to Verizon. It isn't clear whether Motorola will roll out the 64GB device in markets other than the US – The company offers only the 16BG variant in India.
The Moto X was launched in August last year, and despite its many features failed to compete with flagships such as Samsung's Galaxy S4. Sales only began picking up once Motorola started slashing rates of the phone, which now stands at $349.99 (16GB) and $399.99 (32GB). In India the singular 16GB variant of the phone retails for Rs 23,999 and goes up to 25,999 for the wooden back variants.
Recently, Motorola announced that it will be shutting down its Moto X facility in Texas by the end of the year. It is unclear as to how the company will continue offering its Moto Maker feature without a local assembly plant in the US. Given Motorola's recent success in regions outside the US, it wouldn't be surprising if the Moto Maker tool is accessible to customers elsewhere, but could lead to two-week long shipping of the devices.
TAGS: Mobile Phones, Android, Motorola, Moto X, 64GB, Moto Maker