Nokia Lumia 630 Single-SIM Variant Pegged At Rs 10,500 | TechTree.com
Nokia Lumia 630 Single-SIM Variant Pegged At Rs 10,500
The handset brings Windows Phone 8.1 experience at an affordable price.
A month after launching the Nokia Lumia 630 Dual-SIM, Microsoft has introduced the single-SIM variant in the Indian market. The budget Windows Phone 8.1 device offers Nokia Music subscription, Offline HERE Maps, and Microsoft Office Suite. The Lumia 630 is priced at Rs 11,500. So if you were thinking of giving Windows Phone devices a chance, this phone is an ideal choice.
Apart from doing away with one SIM slot, Nokia hasn't made any changes to the handset. The 630 is powered by Qualcomm's Snapdragon 400 chipset. The quad-core chip is clocked at 1.2 GHz. The phone has 512 MB RAM, which is a downer is if you're into gaming. Otherwise, the user experience is very smooth. Other features include a 5 megapixel camera, dual-SIM functionality, Bluetooth 4.0, Wi-Fi, GPS, 8 GB internal storage, microSD card slot that supports up to 128 GB, and 1830 mAh battery. To keep the price in check, Nokia has skipped an LED flash and a front-facing camera.
The Lumia 630 is a well-built phone that improves upon 620's industrial design. Nokia has refreshed the colour palette for this new handset. The 630 comes in bright green, orange, and yellow. For those not keen on bright hues can choose between Black and White. The handset is currently available via Nokia India's official e-store powered by IndiaTimes. If you're planning to buy this device, wait for it to show up on reputed sites such as Flipkart and Amazon since IndiaTimes has a knack of accepting orders without checking the inventory. In the meantime, don't forget to read out Lumia 630 review.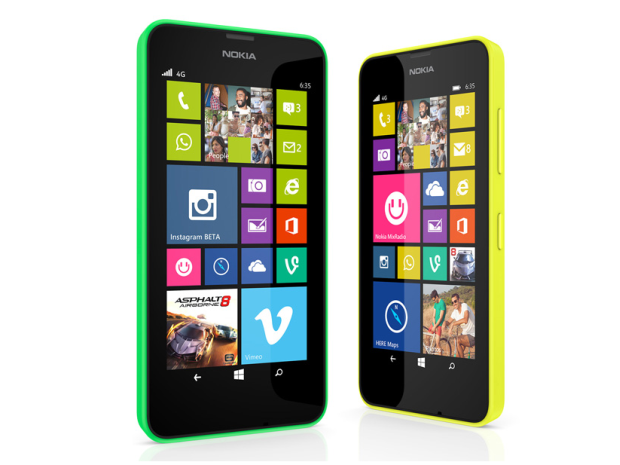 TAGS: Mobile Phones, Windows Phone, Microsoft, Nokia, Lumia, Lumia 630