Asus Introduces Hybrid And Thinnest Transformer Books | TechTree.com
Asus Introduces Hybrid And Thinnest Transformer Books
Seems like a one-dimensional approach to computing seemed too mainstream for the company.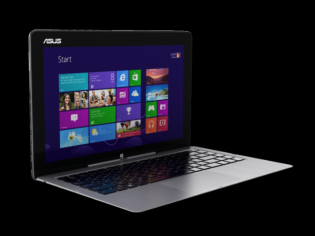 Asus, the Taiwanese PC maker unveiled a flurry of devices at Computex 2014 Monday. Out of the long list of devices unveiled, the Asus Transformer Book V is the most flexible device we have ever seen and it combines 2 operating systems, Windows and Android and three usage modes—tablet, laptop and smartphone.
Simply put, the Transformer Book V is a 12.5 inch tablet/laptop which runs on the Intel Core architecture when running on Windows 8.1. Then there is the 5 inch Asus ZenFone, which runs Android KitKat 4.4.2 powered by Intel's 64-bit quad-core Atom chip with built-in LTE. You can turn the tablet into a fully-functional laptop by simply docking it with a keyboard dock or turn it into Android tablet by sliding the ZenFone onto the back of the tablet as well. There is even a dedicated button that will help you switch between OS' once the phone has been docked into the tablet. The name clearly comes from the five usage modes, which is why the name 'V' refers to five.



If you thought the Surface Pro 3 was thin, get ready to be surprised. Next up is the simpler Transformer Book T300 Chi, which Asus claims is the "world's thinnest 12.5 inch detachable tablet". The device comes with a 12.5 inch pixel dense display that sports a resolution of 2560 x 1440 pixels and includes LTE connectivity thanks to the new Intel Core silicon. The device measures just 14.3mm with the keyboard dock and a thinner 7.3mm without it.
As usual there is no word about pricing and availability just yet, but the devices will definitely hit Indian shores similar to its predecessors.

TAGS: Laptops, Tablets, Mobile Phones, Windows, Android, ASUS