Moto X Gets The Option Of A Rosewood Back On Moto Maker | TechTree.com
Moto X Gets The Option Of A Rosewood Back On Moto Maker
May seem odd why it took Motorola so long to launch a Rosewood back, but it has apparently replaced the Walnut option.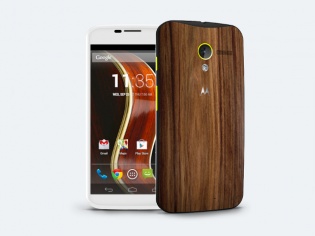 Motorola has made a change to the choice of wood backs available for its flagship Moto X on the Moto Maker tool. The company has replaced the 'Natural' Walnut backplate with one made of Rosewood, a subtle change at a time when everyone is avidly waiting for the roll-out of the X's successor.
The Rosewood back is priced at an additional $25 on top of the phone's cost, which is similar to that of the Teak, Ebony and Bamboo back options. While the change is currently seen only on the Moto Maker tool which is accessibly only in the US, the Walnut back is one of the two 'Natural' back options for the Moto X on sale in India.
We just got news that Motorola could be looking to launch a 64GB variant of the Moto X, adding fuel to the rumour that the company could continue to sell the Moto X alongside its successor. There's no doubt that the current flagship is still a compelling buy, and Motorola could price the so-called X+1 at a higher price point to have four different models in market.
TAGS: Mobile Phones, Android, Motorola, Moto X, wooden back, Rosewood