Samsung Could Launch A 'Watch-Phone' As Early As June | TechTree.com
Samsung Could Launch A 'Watch-Phone' As Early As June
It's still not known how Samsung will solve the issue of doing things such as surfing the web on watch-sized screen.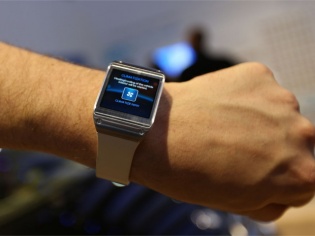 Korean electronics giant Samsung is rumoured to be working on a smartwatch that can make and receive calls, without having to be tethered to a mobile phone. This standalone device, dubbed the 'watch-phone', will supposedly be launched between June and July according to the Wall Street Journal.
Currently smartwatches are extensions of the smartphone, adding little or no extra functionality in comparison to the devices that usually rest in your pockets. Samsung's proposed device will run the company's Tizen OS and apart from making calls will be able to take photos, handle email and will even be equipped with a heart-rate monitor.
According to the report, Samsung is currently in talks with US, Korean and European carriers to bring the device to respective markets. The company however declined to comment on the developments. Even the WSJ report doesn't give us details of the upcoming hardware, or how Samsung plans to address the shortcomings of using such as small screen to perform tasks such as web browsing.
Google's entry into the smartwatch space is already confirmed, with manufacturers LG and Motorola rolling out Android Wear powered devices within the next two months. Apple too is rumoured to be building a so-called iWatch which is expected to come with a plethora of health tracking features.
The current drawbacks of smartwatches is that they don't offer any additional functionality to what your smartphone can already do. As fitness trackers the functionality of smartwatches is only half explored, but the industry is split over integrating features such as heart-rate sensors into watches or phones. Samsung does both.
The other big news is Samsung's decision to stay away from Android Wear even for its standalone smartwatch. The wearable version of Android has lesser functionality than the regular phone OS and Samsung has already sunk huge amounts of money into developing its propitiatory software.
TAGS: wearable, smartwatch, Tizen, Samsung, watch-phone