E-Commerce Giant Flipkart Buys Myntra For Close To $300 Million
The move is clearly aimed at countering Amazon's agressive growth in the Indian online retail space.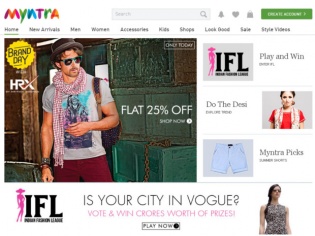 In a move clearly aimed at countering Amazon's growth in the Indian e-commerce space, the country's largest online retailer Flipkart has bought fashion website Myntra, in a deal that is estimated to be close to $300 million.
Flipkart will acquire 100% of Myntra and plans to invest $100 million to further grow the fashion business in order to compete with Amazon. The American company has been making some aggressive moves to quickly scale up its business in the India, turning the Indian e-commerce space into a battlefield.
"Going forward we have big plans in this segment," said Sachin Bansal, co-founder of Flipkart, according to an NDTV report. The financial terms of the deal have not yet been disclosed, but the report cites that the transaction is worth close to $300 million.
The two companies share investors - Tiger Global Management and Accel Partners, who suggested the merger last year. News of the two companies considering the merger broke in April this year, but took until now to announce due to the investors needing to find workarounds due to India's restrictive policies for online retail.
Flipkart buying Myntra is a way for it to stay ahead of the e-commerce game, especially since giants like Amazon and Snapdeal are gnawing at its market share. Snapdeal just a few days ago raised $100 million in order to aid growth, taking the total amount raised to more than $400 million.
With the online retail market expected to grow by over seven times to $22 billion in the next five years, mergers, deals and buyouts should be a common sight in the Indian e-commerce space.
TAGS: E-Commerce, Flipkart, Myntra, Amazon, India