ZeniMax Media Sues Facebook's Oculus VR And Its Founder | TechTree.com
ZeniMax Media Sues Facebook's Oculus VR And Its Founder
ZeniMax claims that Oculus infringes on its IP and copyrighted computer code which are used in the Rift VR headset.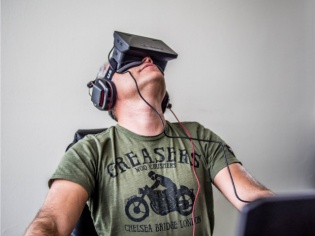 Virtual reality headset maker Oculus VR and its founder Palmer Luckey are being sued by ZeniMax Media, the owners of id Software, over trademarks tied to the Oculus Rift headset. The move comes just two months after Oculus VR was acquired by social network giant Facebook.
A statement released by ZeniMax, accuses Oculus VR and its founder of "unlawful exploitation of intellectual property, including trade secrets, copyrighted computer code, and technical know-how relating to virtual reality technology that was developed by ZeniMax after years of research and investment."
Weeks after Facebook purchased Oculus VR for $2 billion, ZeniMax sent letters to the two companies claiming that video game programmer John Carmack — who moved from id to Oculus — used technology developed by it.
Oculus has denied all claims made by ZeniMax, and said that it would defend itself vigorously. "As we have previously said, ZeniMax did not contribute to any Oculus technology," a statement released by Oculus read. Soon after the report was published, Carmack took to Twitter denying using any of ZeniMax's code.
Oculus uses zero lines of code that I wrote while under contract to Zenimax.

— John Carmack (@ID_AA_Carmack) May 1, 2014
ZeniMax is better known as the company that owns id Software and Bethesda Game Studios, the makers of games like Doom, The Elder Scrolls and Fallout. Carmack was a founding member of id Software, but left the company last November to take on a full time position at Oculus VR.
TAGS: virtual reality, Gaming, Oculus VR, Facebook, Intellectual Property