Flipkart To Buy Myntra As Amazon Turns Up The Heat In India
The deal is expected to be announced this week and it is expected that Myntra will be valued at $300-$330 million.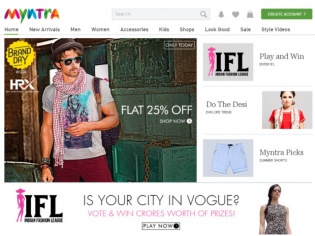 India's largest online retailer Flipkart will buy a majority stake in fashion site Myntra, in a bid to ward off any attack from Amazon. According to Livemint the deal is set to be announced this week, and values Myntra at about $300-$330 million.
Common investors in the two firms - Tiger Global Management and Accel Partners, first proposed the deal last year as a response to Amazon's aggressive moves in the Indian market. The companies agreed upon the deal in April this year, but it took investors a little time to find workarounds the restrictive Indian laws.
Both Flipkart and Myntra declined to comment on the developments, but the latter company's spokesperson did say that a press conference will be held on Thursday "to announce an important strategic development".
India's e-commerce space is growing at a humongous pace, and while the Flipkart, Snapdeal, Myntra and Jabong are leading the pack, Amazon has caught up in a relatively short period of time. The US online retail giant made an entry into Indian only last June and has already built one of the largest online product assortments in the country.
Amazon has vast financial backing and technological expertise, giving it the edge over most of the homegrown players. Currently the only thing the company lacks is knowledge of the Indian marketplace, which given a little longer it should be quite familiar with.
The deal between Flipkart and Myntra should provide it with the extra muscle to stay ahead of Amazon for the time being. However both companies will have to invest more money on developing their own technologies and logistical support to ward off threats such as Amazon.
TAGS: Internet, E-Commerce, Flipkart, Myntra, Amazon