Microsoft To Announce A Bigger Surface Tablet Today? | TechTree.com
Microsoft To Announce A Bigger Surface Tablet Today?
Rumours now suggest there won't be a Surface Mini, but instead the exact opposite - a 12-inch Surface tablet.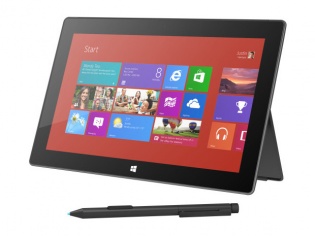 Microsoft is all set to hold a 'Surface-themed' event in New York today, where it is expected to unveil a new tablet device. Rumours had earlier suggested that the company would launch a smaller Surface tablet to take on the iPad Mini, but closer to the launch date reports of a larger device being launched have cropped up.
According to TechCrunch, Microsoft will do the opposite by launching a larger screened Surface tablet at the event. The report speculates the device will sport a 12-inch screen, making for a better case for people to use the Surface tablets as a mainstream computing device.
Microsoft already has the Surface Pro 2 tablet which runs the full-fledged Windows OS and is aimed as an alternative to ultrabooks. However, many users have raised the issue of the device's screen being too small to serve as a replacement to a PC.
In theory you could plug up your Surface device to an external screen, but that's in many ways more cumbersome than owning a laptop. The new tablet could be a PRO device that sacrifices some of its portability for a more useful screen size.
TAGS: Tablets, Windows 8, Microsoft, Surface Mini, ultrabooks, Surface Pro