Microsoft Gears Up For Launch Of A New Line Of Surface Tablets | TechTree.com
Microsoft Gears Up For Launch Of A New Line Of Surface Tablets
The first real test for Microsoft's new CEO Satya Nadella to prove his "mobile first" strategy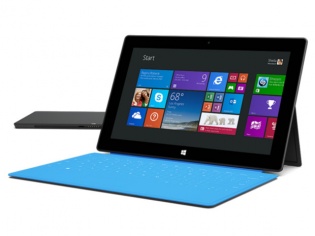 It's a busy time at Microsoft, with the company radically altering the way it functions under the leadership of recently appointed CEO Satya Nadella. So far his "mobile first, cloud first" mantra has received positive appraise from investors and more importantly consumers, but he could hit his first roadblock in a week with the launch of a new line of Surface tablets.
Microsoft's current crop of Surface tablets command just 2 per cent of the overall tablet market share. While this may be in line with the 3 per cent share of the smartphone market the company controls, it's far from ideal. It's a given that Microsoft wants to grow its presence in the segment, and as rumours have suggested the kingpin in this effort will be a smaller Surface tablet.
Nadella's move (Initiated by former CEO Steve Ballmer) to bring Office to iOS devices has played out extremely well for Microsoft recently. Office for iPad Apps have clocked over 27 million downloads in an extremely short period of time. The launch of the new Surface tablets will be the first real test of Microsoft's revamped device strategy, apart from rolling out the Windows Phone 8.1 OS update.
The third-generation of Surface tablets are expected to come in multiple sizes. Microsoft is likely to retain its Surface Pro line of tablets as is, as it is undoubtedly becoming an attractive option for business users. Part of the Pro's marginal success is down to its ability to run the full blown version of Windows 8.
While it is highly unlikely that all the new Surface tablets will run the regular Windows 8 OS, the smaller device would go up against the popular iPad Mini, Nexus 7 and Amazon's 7-inch Kindle Fire tabs. This could instantly cause an increase in market share, as the company has so far been missing from action.
A lot of people may argue that Microsoft's reign in dominating personal devices is over, and that it should stop investing in devices, but its presence does set the guidelines for third party manufacturers using Windows OS. Moreover, with the desktop and laptop markets continually de-growing, tablets such as the Surface Pro 2 are gaining significance.
So far the iPad has dominated the business tablet market, but ironing out a few kinks from the Pro line of tablets should get Microsoft a good deal of customers.
"Nadella is off to a golden start as CEO, although turning around the tablet and mobile business over the next 12 to 18 months remain his two key Herculean tasks," said Daniel Ives, an analyst at FBR Capital Markets, in a Times of India report. "If the turbulence gets too rough on the tablet and/or mobile segment, we can potentially see some strategic changes on the horizon around the hardware business."
TAGS: Tablets, Windows, Microsoft, Satya Nadella, Surface, Office for iPad