Motorola's Entry-Level Moto E Runs Out Of Stock On Flipkart
Only sales numbers will reveal the true level of success, but the Moto E seems to be doing pretty well.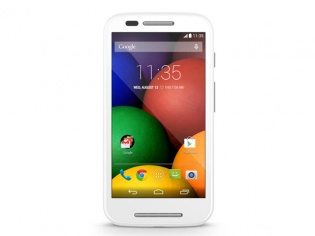 Motorola's recently launched entry-level Moto E does undoubtedly offer great value for money, but it was hard to gauge how successful the phone would be in the real world. However, just a little over 24-hours after the phone went on sale exclusively through online retailer Flipkart, both variants have run out of stock.
While the true scale of the phone's success can only be revealed once Motorola or Flipkart release figures, the lack of stock does at least indicate that the companies were successful in creating an initial buying frenzy. Even the last time around when the Moto G was launched, just hours after going on sales the phone was out of stock.
Motorola is hoping that with the added push from sales of the Moto E, it should be able to pass the 5 lakh units sales mark in the next few days. Motorola made its re-entry into the India only in February this year, and has been one of the fastest growing manufacturers in the market.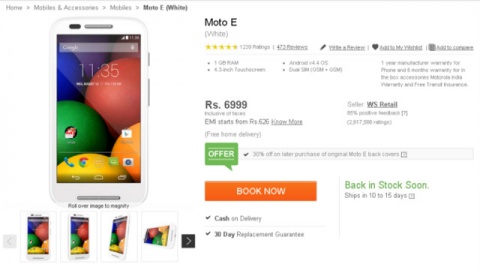 Undoubtedly an irritant to customers, Flipkart has begun taking bookings for the Moto E and promises to deliver the phone within 10-15 days. While this could play badly on the company's image, it didn't seem to hurt sales too badly the last time around when the Moto G kept running out of stock.
It's pretty obvious that both companies will be looking to match or beat the sales record created by the Moto G, and with the positive consumer sentiments the entry-level handset is receiving, it doesn't seem like a tall order.
While the Moto E didn't quite live up to the pre-launch rumours in terms of specification (720p screen and 6.2mm thickness), Motorola did indeed take everyone by surprise on the pricing front. The phone was expected to be priced at about Rs 8,500, but was launched at a mouth-watering Rs 6,999 on Flipkart.
TAGS: Mobile Phones, Android, Motorola, Moto E, Flipkart