Nokia's Sat-Nav App Now Free For All WP 8.1 Handsets
Finally, HTC and Samsung Windows phone users will get access to offline maps and navigation.
In 2007, Nokia, in its prime, purchased Chicago-based maps and navigation provider Navteq for $8.1 Billion. This acquisition helped Nokia build its own mapping solutions. Later, the Finnish company aquired geo social service Plazes, Plum, social travel company Dopplr, and location aware search service Metacarta. After getting everything in place, Nokia released 3D maps for its Symbian smartphones in 2011. The unique thing about Nokia's location service was its ability to run in offline mode.
After abandoning Symbian for Microsoft's mobile platform, Nokia ported its maps services to Windows Phone platform. If you're a Lumia user you would know that Nokia Drive (now known as HERE Drive+) software lets you download map data for an entire country as well as for individual states. For instance, you can install the India (All) map, which is 800 MB in size, or opt for the Maharashtra/Goa map, that fits into 220 MB. Once you've downloaded the desired maps, you can avail free voice guided navigation in offline mode. Of course, all this mapping goodness was exclusive to Nokia phones. On an HTC or Samsung Windows Phone, you had to pay Rs 25,000 to avail these services.
Now that Microsoft has taken over Nokia, it's offering the Finnish company's maps app free to all Windows Phone 8.1 handsets. So if you're running WP 8.1 Preview on your handset, follow this link to download HERE Drive + for free. If you haven't installed Windows phone 8.1 update yet, check out this tutorial.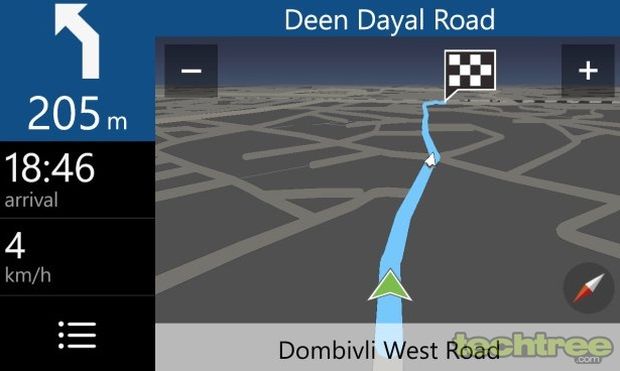 TAGS: Apps, Downloads, Sat Nav, Nokia, Microsoft, Windows Phone