Samsung Outs Two New Galaxy S II Variants | TechTree.com
Samsung Outs Two New Galaxy S II Variants
Boast of faster CPUs and better screens.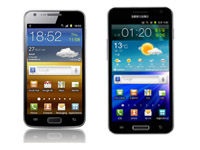 Samsung's flagship phone has crossed sales figure of 10 million units in about 5 months, making it the fastest-selling device from the company. Little wonder then that it has announced two new variants of the Galaxy S II. First up is the Galaxy S II LTE, featuring a 1.5 GHz CPU. The other one is the Galaxy S II HD LTE, boasting a 4.65" Super AMOLED screen with pixel dimensions of 1280x720p.

The LTE features a 4.5" Super AMOLED Plus screen, 8 MP camera, 1080p video recording, TV-Out support via MHL, 16 GB internal memory, Wi-Fi, Bluetooth, GPS, NFC, and a 1850 mAh battery. Apart from a bigger and better screen, the HD LTE shares its spec sheet with the LTE. According to the company, the LTE (3.9G) technology will offer up to 5 times faster download speeds than 3G.

Currently, these new phones are only available in South Korea, and there is no word on the India release yet.
TAGS: Mobile Phones, Android, Samsung, GALAXY, ck