Samsung And Corning's Lotus Glass Headed For OLEDs
To debut with next GALAXY Nexus device.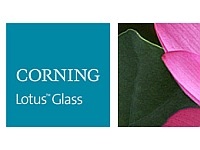 The next iteration of Corning's Gorilla Glass claims to be 20% thinner, while maintaining the same impact and scratch-resistance properties as the original. While slimmer mobile devices are always welcome, there are many who won't mind sacrificing some real estate for added protection. Samsung seems to be one of them, since it's trying to achieve better strength as well as clarity for its flagship AMOLED displays.

The Korean electronics major has teamed up with Corning to create Lotus Glass, a beefed-up version of Gorilla Glass. The new reinfored screens are expected to be unveiled with Samsung's upcoming GALAXY Nexus devices. According to the reinforced glass manufacturer, this new screen will offer increased picture quality, faster response time, and higher resolutions, along with providing better structural integrity.

Corning's press release however, says that Lotus Glass is meant for TFT LCDs as well, and not just OLED screens. It also claims to enable more power-efficient displays, thanks to a thinner form factor and a better ability to transmit light. I guess we will have to wait for the crazy drop tests on YouTube to see if Lotus screens are indeed tougher than Gorilla displays.
TAGS: Mobile Phones, Displays, Samsung, Nachiket