The Moto E Alerts Your Close Contacts In An Emergency
Just like Motorola Assist and Migrate, users of the Moto E will have access to Motorola Alert.
Just yesterday Motorola announced its cheapest device yet, the Moto E, and despite it's tiny price tag the phone hasn't skimped on offering some useful features. Motorola Alert is one such services at your disposal, helping you contact friends and family quickly in an emergency.
The app lets users trigger an emergency mode that sends alerts and location updates to select contacts. Further, you can define locations such as 'home' or 'workplace' letting those people know that you're in a familiar area, and even send out notifications to meet up at a set location.
Motorola Alert comes as part of the pre-installed app package along with Motorola Assist and Motorola Migrate. For now the software will only be available on the Moto E and the soon to come LTE variant of the Moto G.
Users of Motorola's older phones, namely the Moto X and regular Moto G will however have to wait for an update in order to gain access to the app. While Motorola has taken to providing an unadulterated Android experience to users, its phones do come with some pretty useful proprietor software, which can easily be disabled.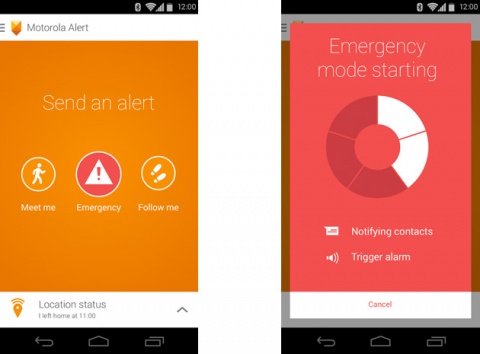 Motorola has stuck to its new Google-esque method of building phones when it comes to the Moto E. The phone went on sale in India at midnight, exclusively through online retail partner Flipkart for Rs 6,999. Just as with the Moto G, first day customers will be able to avail some special offers, increasing the value of the already affordable phone.
TAGS: Mobile Phones, Android, Motorola, Moto E, Motorola Alert, Apps