Rumour: Samsung "GALAXY 4S" Photo Leaked
Russian blogger tweets amidst allegations of Photoshopping.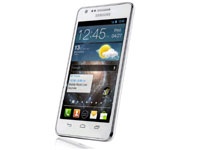 A Russian mobile phone blogger Eldar Murtazin has posted an allegedly leaked press shot of the Samsung "GALAXY 4S". The phone, which will probably be called the SII Plus, is unofficially being labelled the "4S" as a reference to Apple's iPhone 5 that was later launched as the 4S last year. The as yet unreleased smartphone could possibly be unveiled at the Mobile World Congress (MWC) taking place in a little over three weeks from now in Barcelona, Spain. Samsung has declined to comment.

The single photo does appear like a normal press shot and shows a rather slim white phone running Android OS. However, there are several anomalies pointing to a possibility that the image has been doctored. Details such as the 4th April date appearing on the phone is a Wednesday means that this screen has been captured in 2011, which is unlikely for the press shot of a smartphone going to launch in 2012. Also, the MWC keynote event entry on the home screen points to last year's MWC schedule. Additionally, it shows dated icons of the Android Market and ICS, thus further cementing this claim. Samsung had earlier announced that it will not launch the GALAXY SIII at the MWC, thus making this phone its star entry to the event. We will have to wait till more information comes out from the official channel.


TAGS: Mobile Phones, Samsung, GALAXY, Android, Jayesh